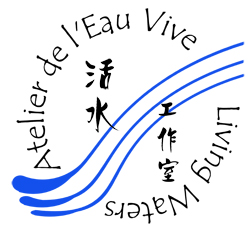 The workshop of the Living Waters is the place where I use my art to retransmit the beauty of God's creation.
I am a contemporary artist profoundly moved by the tenants of Christianity, not only in the spirtual realm, but also in a real world context.  My path to Christianity has brought me a new spiritual vision.  It has inspired in me a need to reconsider my ideas about the material world, the figurative, and my perspective in general.  With this new vision of the world I have tried to find a way to represent visual space in such a way that our reality is adjusted to our times.
Why « Living Waters » ?
I invite you to read a few verses of the Bible, from the Gospel of John Chapter 4: 10-14 :
« 10 Jesus answered and said unto her, If thou knewest the gift of God, and who it is that saith to thee, Give me to drink; thou wouldest have asked of him, and he would have given thee living water. 11 The woman saith unto him, Sir, thou hast nothing to draw with, and the well is deep: from whence then hast thou that living water? 12 Art thou greater than our father Jacob, which gave us the well, and drank thereof himself, and his children, and his cattle? 13 Jesus answered and said unto her, Whosoever drinketh of this water shall thirst again: 14 But whosoever drinketh of the water that I shall give him shall never thirst; but the water that I shall give him shall be in him a well of water springing up into everlasting life. »
My inspiration comes from the Living Water, which sustains me and brings me greater happiness with each passing day.
I would like to invite you to join me in this endeavor, so that we can undertake this journey together and convey the beauty of his wisdom through art:  through the colors, the light, the media of the artwork.
Through the sharing of our gifts from God, we can discover together his love, for the generations to come as well as for ourselves…
 » Love is a true color, the true makings of art «  Marc Chagall